SURVIVING DEATH VALLEY
February 28, 2018

After making a few changes to our new (used) camper we had to try it out of course.
Having lived in California for a half century, it's hard to find new and interesting places, so back to some old favorites. One of them was Death Valley, plus I managed pry a few other interesting sights surrounding it off of the web. At the last week there was a change of plans when I realized that Mono Lake and Tuttle Campground above Lone Pine is at 5000' and probably well below freezing at nights this time of year.

Our destination was Red Rock Canyon, a handy 6 hours away. A new problem was the concern for fuel. Our rig is now diesel, and not every gas station has it. The positive is that we get about 40% better mpg, but the gallon is about 15% more expensive.. at least in California.
Except for a few embarrassing times when trucks passed us on the freeway (going 70+), the trip down Hwy 5 was uneventful.

Click some pictures to see them larger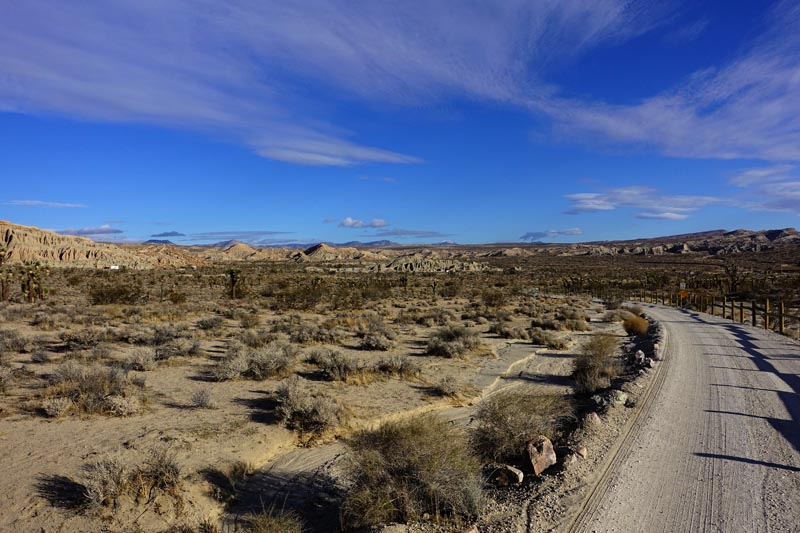 Red Rock Canyon Campground.
| | | |
| --- | --- | --- |
| | | |
| We got to RRC about 3, settled in and looked forward to a nice hike around the beautiful campground when I spotted this unusual cloud formation | | You can see the tools of the trade for this camper, barbecue, thermometer, camera, and drink. |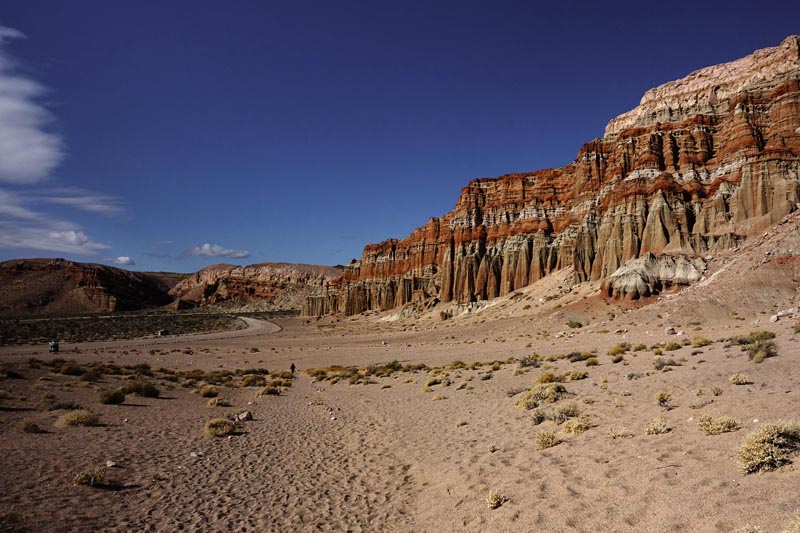 Red Cliffs Hike
The following morning we took the Red Cliffs Hike all the way to the end and it was stunning. We started out under the shadow of dark clouds, but soon the sun came out and brilliantly lit the landscape.
| | | |
| --- | --- | --- |
| | | |
| One of the new finds was Fossil Falls just below Lone Pine. This is the remains of the Owens River which dried up over 10 thousand years ago. | | It has unique formations of basaltic lava polished smooth and pock marked with large potholes. It also has a small simple campground for those who want to enjoy a peaceful night among the stars away from everything for just a few dollars a night. |

Wash up to Grotto Canyon

On to Death Valley where we had intended to hike Grotto Canyon. Well, it's up a 4WD road and I don't recall having that on our Winnebago. But we had higher than normal clearance and an automatic.

Lots of people don't consider an automatic good for off road, but the big advantage is it lets you 'crawl'. And that's exactly what we did along with a lot of rocking and rolling, but thankfully very slowly. Finally there was a sharp drop we didn't think we could handle and it was on foot after that.


The end of the trail... at least for us


| | | |
| --- | --- | --- |
| Heading back | | One jeep with two ladies came by and we were half serious about hitch hiking a ride, but we ended up walking an hour along a large wash with the valley as a back drop. |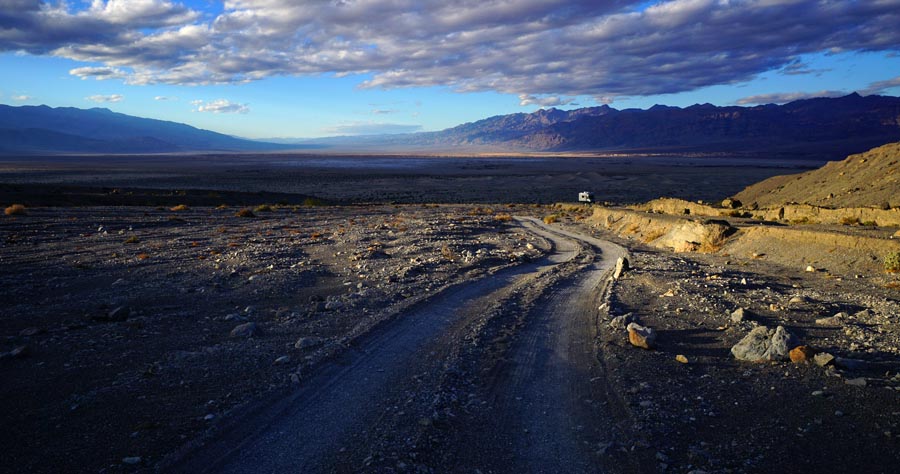 View of the valley and our camper coming back from Grotto Canyon

I can't say the canyon was too exciting, but it was nice and we certainly enjoyed the scenery and walk back.
I'm certain being all downhill and heading back to camp for a relaxing evening influenced the scenery as well.

Another amazing view of the valley on our return from Grotto. Click to see larger.

| | | |
| --- | --- | --- |
| | | This view from our window at Stovepipe Wells (a whopping $7 for seniors) prompted me to go out and take a shot. Shown is a full moon and the neighboring RV campground where there was apparently some sort of club gathering going on. |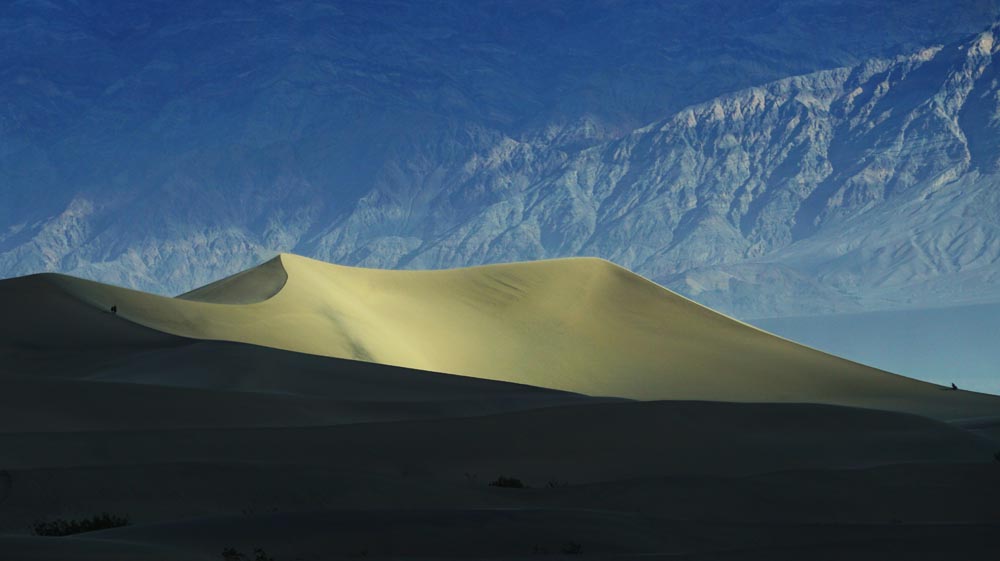 I managed to get a pretty good shot of the dunes in the morning.
You can see some people had already started the climb.

| | | |
| --- | --- | --- |
| | | Did I mention the winds? They were in excess of 50 miles per hour at times when we headed for Salt Creek the next morning. None the less we enjoyed this hike we hadn't taken for 20 or so years, but we did have to hang onto our hats and protect our eyes from the driving sand at times. |
| | | |
| | | |
| --- | --- | --- |
| Salt Creek Hike among fierce winds | | |
| | | |
| --- | --- | --- |
| Around Desolate Canyon, another new one for us, the winds abated somewhat. With some trepidation, we left the path to take a shortcut to what we were sure was the canyon entrance about a mile away. | | Well.... we got in an extra two miles on that hike as it wound up to be a dead end. Cutting cross country we found the trail again and Desolate Canyon wound up to be very scenic. |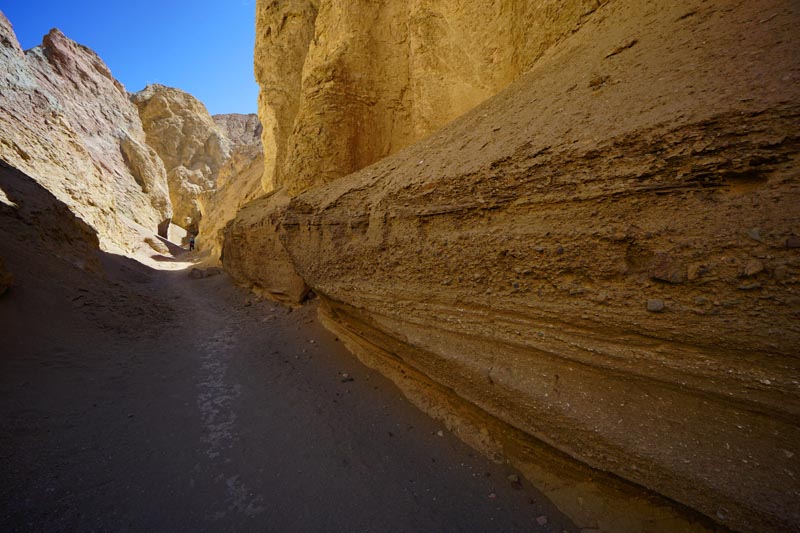 Desolate Canyon had amazing geology around every corner.
About a half mile into the narrows we pretty much reached the end.
| | | |
| --- | --- | --- |
| On to Natural Bridges, another new one to us. It wound up to be a nice hike in spite of the Disneyland crowds. On both of these last two hikes, it is possible to go on provided you have some rock climbing skills or are a teenager. | | |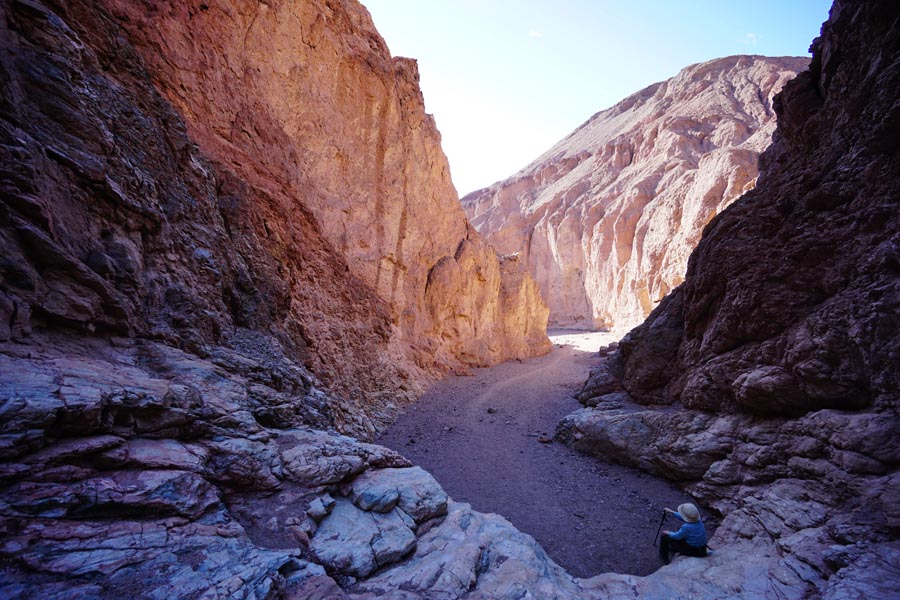 End of the trail
This was the first falls at Natural Bridges where we called it quits. I understand there are some fairly nice sights beyond this for those with more time and ambition.

Spruced up Airstream

The following morning we headed for a the semi ghost towns of Randsburg and Johannesburg.
They were a kick and anyone appreciating junktiques should really enjoy the area.

Randsburg is the most developed having a small but thriving tourist clientele. You might also want to take in the eclectic Rand Desert Museum while there.
| | | |
| --- | --- | --- |
| Randsburg & more Randsburg | | |
| | | |
| --- | --- | --- |
| Believe it or not, this store is still in business | | A typical Ransburg residence |
| | | |
| --- | --- | --- |
| The Borax Museum | | A life-size 20 mule team stands beside the entrance. |

For years we had seen a colossal industrial complex near Boron.
We found that not only was it one of the worlds largest Borax manufacturing plants, but had a nice low key and free Borax museum. After Ms Garmin led us miles out of the way, we finally arrived to spend a delightful hour there.
Great for kids too. Fyi, Borax Road goes through and is the most direct way.
| | | |
| --- | --- | --- |
| | | Club Ed Movie Set was an interesting little stop after Saddleback. It was built in 1990 for the movie "Eye of the Storm" and left intact. Several other movies have since been shot there and it is available for rent. So if you're looking to make a movie... |
After the museum I think we made a mistake by heading for Saddleback Butte SP. We had planned on visiting some wildflower sites in the area, but there were none due to the time of year combined with the lack of rain.
It was 60 miles to the park through the towns of Adelanto and El Mirage, some of the most depressing places we have been to in a long time as there was no direct route through the Edwards AFB area. Luckily Saddleback itself was a little oasis. After a pleasant but cool night (24 degrees), we took a short hike in the morning, but broke it off due to mostly mundane scenery. We missed the only place of real interest from photos, the Antelope Valley Indian Museum SHP as it opened so late late, and pressed on westward through dust and junk laden homesteads. One perk was that even Hwy 5 looked scenic after this. On to Pinnacles, one of our favorite parks in the Bay area where we took a nice little hike to the Bacon Ranch, which is also good for kids. And then in the morning took the Old Pinnacles trail to the Balconies. Great few days off in spite of some our romp through the Antelope Valley area.